"Marin doctor's Confession to southern Sonoma,
and why it's well worth the drive here"
SPECIAL OFFER
Examination, three types of neurological scans & X-rays for only $70!
You save $500!
Available for the first seven people who call by Feb. 18th.
Since 1981, I've been serving the Greater Bay Area (including people from Santa Rosa, Petaluma, Cotati, Sebastopol, even Clear Lake), getting sick people well and keeping the well from getting sick. I was honored by the World Chiropractic Alliance (WCA) in 2006 as "Chiropractor of the Year." I've had articles published in the Chiropractic Journal, Journal of the California Chiropractic Association, OMNI magazine and the SF Chronicle.
This office, The Harte of Chiropractic, remains THE only office where you will benefit from the art that I have created and honed since 1981, The Harte Method. Going where other chiropractors do not, analyzing and correcting the entire spine, including the coccyx (tailbone) and spinal disks, plus cranial bones (including TMJ) and extremities (shoulders, hips, knees, etc.) with maximum specificity and minimum force.
WHY do I make this crazy-generous offer? I am deeply disturbed about the reckless aggressiveness and systemic incompetence of orthopedic medicine (and medicine, in general.) I am horrified by how many chiropractors are failing in their mission, and failing you. So, here I am!
Be well,
Dr. Don Harte, D.C.
"Before I found Dr. Harte, I had been to one acupuncturist and 11 other chiropractors. Besides getting rid of back and neck pain, Dr. Harte's care has improved my life in so many areas….energy, emotional and mental clarity, sports abilities, a sense of well-being and overall enthusiasm. Thanks, you're the best!"
–Patty Charley, Petaluma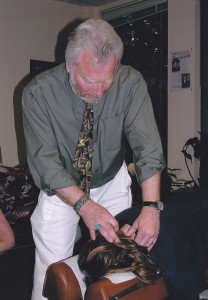 PS: People come to see me with things that you thought that Chiropractic had nothing to do with… arthritis, insomnia, vertigo, gastric reflux, diabetes, constipation, migraines, chronic fatigue, thyroid, circulation issues, urinary problems, etc. AND… they come to me with problems that allegedly require surgery… spondylolisthesis, stenosis, herniated disks, "bone-on-bone" hips and knees.
I don't treat or cure any of these, but people get better. Ask me how!
PPS: If you work in Marin or San Francisco, or drive across the Richmond Bridge, no big deal to get here, right? Yes, I am open late! And if you don't, if you have significant health problems, and have "been everywhere," it's time to come here and get well!
AND, an extra $300 off of my already specially discounted plans for the first 3 Sonoma residents who call and qualify.
---
The Harte of Chiropractic | (415) 460-6527