Chiropractic Care
The Vitalistic Philosophy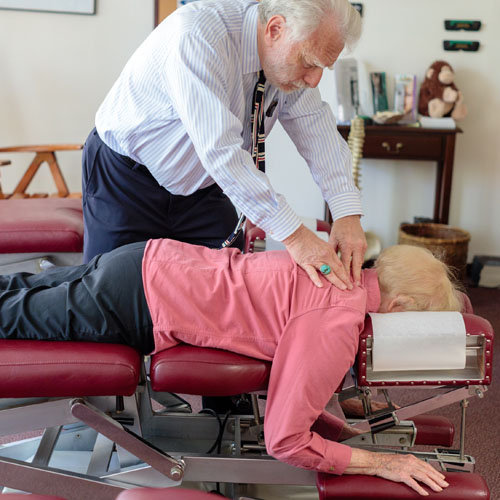 The vitalistic philosophy is at the heart of chiropractic care. While the medical philosophy, in summary, states that humans are born with a deficiency of drugs and excess of organs, the vitalistic philosophy says just the opposite. It emphasizes the innate intelligence in all living things that organizes, controls, coordinates, and heals. It says that the body is always trying the best it can to express life, and if there is interference, things do not work and break down. Chiropractic corrects such interference and works with life.
The body needs no help, just no interference.
The Harte of Chiropractic Difference
Even as a student intern, Dr. Harte's passion was reaffirmed through seeing chiropractic in action. On an off night working as a waiter at a local restaurant, the restaurant owner came in with his girlfriend that struggled with hyperthyroidism from a very early age. She was given medication that destroyed her thyroid, and Dr. Harte suggested an adjustment. Within six weeks of adjusting the woman, she no longer needed the damaging medication she was prescribed.
Offering Care for All Ages
Over three decades have passed since Dr. Harte began serving Marin County and the Greater Bay Area. Each year, he observes the miraculous outcome of authentic chiropractic – ultimate health. Under medical care, people have illnesses and conditions that are maintained and gradually get worse. What takes place in his office is a whole different universe. People who have suffered for years actually get better.
Many practice members are able to cut down on their medications and even let them go entirely. Witnessing the impossible, not just possible, get done is what motivates Dr. Harte's practice. His work results in kids growing up physically, mentally, and socially healthy. Under his care, older adults begin to appear younger and enjoying life more than ever before.
Schedule Your Visit
If you're ready to understand how natural, gentle chiropractic care can positively impact your life, we'd love to speak with you. Contact our practice today to get started—you'll be happy you did.
CONTACT US »

Chiropractic Care | (415) 460-6527