The Harte of Chiropractic Reviews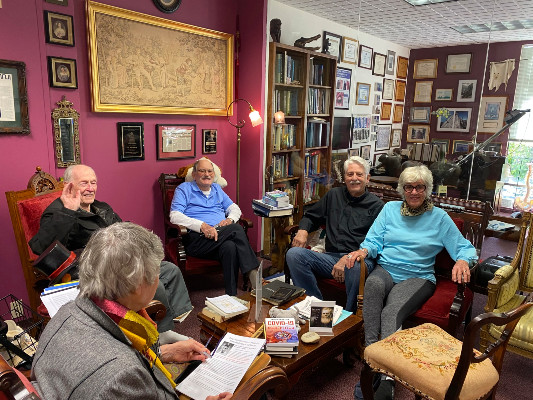 What Our Marin County Patients Say
At The Harte of Chiropractic we love when patients share with us their feedback and comments after chiropractic care. Please read our patient testimonials below to see what other people have achieved through their tailored treatment plans with us.
Share your stories too! Click here to send us your feedback so that we can help to spread the word about the benefits of natural The Harte of Chiropractic care.
For more information, or to schedule an appointment contact us today.

Looking Forward to Next Session
Just love Doctor Harte, he is very patient in explaining what I can gain from his treatment. I also love the ambience of his clinic, very comfortable and clean atmosphere. So far my arm tendonitis has improved with my first week with him, looking forward to my next session with Doctor Harte
– Jj Sanchez, Novato
Dr. Harte Is Fantastic
After reading an article about Dr. Harte and his practice, I made an appointment with him to address severe neck tension along with the hope for increased health and wellness. Knowledge is power and Dr. Harte provides educational material about true chiropractic care and the philosophy of his practice. Dr. Harte performed extensive testing and x-rays (for a very nominal price) and provided an assessment of my current health along with a recommended schedule of adjustments to restore wellness. I didn't expect results immediately but even after my first adjustment I had some relief of the tension in my neck as well as a noticeable reduction in tinnitus and restless legs, and better sleep. I was surprised and thrilled to have restored alignment in my hip that other doctors couldn't do anything for. After a few short weeks, I have great improvement in neck comfort and mobility, I have increased vitality, better digestion and I can hike regularly without exacerbating my hip. Dr. Harte is passionate about his practice and his patients and creates a warm, welcoming and fun atmosphere with great music. I wholeheartedly recommend Dr. Harte to improve health, vitality and well-being.
– Kim Crozier, Novato
Movement Improved
With improved sleep, my day begins with more energy and better mental clarity. I'm not in a fog all day. Movement is improved.
– Diane Elliot, Novato
Impressed with Dr. Harte
As a former Division I athlete, now weekend warrior and endeavoring to maintain a reasonable fitness level, I found myself struggling with nagging injuries and acquiring new ones. After tiring of daily ibuprofen and lingering pain in multiple joints and muscles, I was referred to Dr. Harte who had helped a good friend recover from an auto accident. I was impressed with Dr. Harte's open and straightforward approach – share the knowledge,answer questions, conduct exam, report findings and let you choose if you want to commit to incorporating chiropractic care into your life. Dr. Harte works on the total body, helping you unlock your body's (really brain's) ability to heal itself, not just a few "snap, crackle, pops." He enters into a "partnership" with each practice member, creates a positive working relationship and tailors the "adjustments" for each member. As with most worthwhile things in life, there are no quick fixes, but rewards for those who commit to the journey of wellness.
– Diane Elliot, Novato
Great Office Environment
I am 70+ years old and a lifetime of athletics and running was starting to take a toll on my daily life and well-being, leaving me with lingering pain, stiffness, sleep issues and overall malaise. I have been seeing Dr. Harte for 5 weeks and I feel more mentally alert, am sleeping better and we are jointly conquering my various joint and back pains. I appreciate Dr. Harte's open office environment and great sense of humor and look forward to continuing to work with him.
– Dan Cherrick, San Rafael
Life Changing
Life-changing. Better outlook, better mood, lots more positive energy. Today, I walked three miles with my husband!
– Carmen Cespedes, Novato
Amazing Improvement
After taking a fall twelve years ago, I have had much difficulty and pain walking up stairs and up hills. For much of this time, I had to get up in the middle of the night between one and four times to walk in hopes of relieving pain in lower back, hips, pelvis, etc. After my third appointment with Dr. Harte, I woke up in the morning without any pain, and realized that I had slept through the entire night in comfort.
I went to my previous chiropractor to tell him that due to scheduling problems I couldn't continue to see him. I looked at the stairs I had to climb and thought 'Well, we'll see how this goes.' Up to this time, taking those stairs were the worst. I got to the top of the stairs with absolutely no pain, and about three weeks later, I climbed three flights of stairs to go to an art show at a friend's apartment. I was shocked. I thought that many stairs would cause a problem. No way! Got to the top absolutely pain-free! Wow! I have only seen Dr. Harte for one month and I can't believe the improvement. Still have problems to work out, but we'll get there. Thanks, Dr. Harte.
– Diane Elliot, Novato
Great Weekly Tune-Up
Dr. Harte is like my weekly tune-up. He has helped me with all kinds of aches and pains, and a nagging sciatica nerve. I really like his annual care program because you know that every week you are going to have his healing hands making your body right again. I'm very active and play squash and golf, and both sports put a lot of strain and torque on my back and surrounding muscles. But Dr. Harte keeps me feeling great and ready to go.He is truly amazing. Sometimes I'll go in complaining of one part of my body and he'll say it's from something else and he'll fix it. I always walk out of there feeling just great; very happy, and ready to go. I can't say enough about how important Dr. Harte's care is to my life. My immune system is strong and I never get sick. I tried another chiropractor in the city and while fine, she did not do what Dr. Harte does for me. It is so important that it's worth it for me to drive all the way from San Francisco to Marin for that 15 minutes every week. I can't say enough about the wonders of The Harte of Chiropractic!
– Michele Benjamen, San Francisco
Highly Recommend
Dr. Harte is very personable and answered all my questions about chiropractic healing at our first consultation. Dr. Harte relieved any concerns/fears I had in mind from previous chiropractic adjustments that made me run for the hills. My first adjustment was easy and I felt a dramatic difference within weeks. I have made a conscious effort to change how I deal with stress and feel great about working with Dr. Harte to improve my overall health. I have felt a positive surge with my TMJ, digestive issues, prolonged respiratory concerns, and mental stamina. Dr.Harte is very gentle when adjusting subluxations and pays close attention to subtle changes in my body, which I love about people in general, especially when you're placing a small amount of trust in them when it comes to your health and well-being. Dr. Harte is always up-beat and enthusiastic when you see him. It beams through him that he really loves what he does. I highly recommend Dr. Harte.
– Trish Washburn, San Rafael
Big Thank You
From non-believer to believer of Chiropractic! More energy, I think from better sleep. Noted better balance, which was very poor!! Circulation in both arms almost back to normal. Use of my right hand now about 95% from practically nil. All of the above with a sigh of relief and well-being and an enormous 'thank you' to Dr. Harte.
– Betty Koenig, Novato
Sigh of Relief
More energy, I think from better sleep. Better balance, which was poor. Use of my right hand about 95%, from practically nil. All of the above with a sigh of relief and well-being and an enormous thank you to Dr. Harte!
– Betty Koenig, Novato
Back to Healthy Living
All I can say is Dr. Harte has made a tremendous difference for me! I am a woodworker who does all the work for my company with no employees, so if I am not well, it affects everything. I had a back injury last fall that left me with terrible sciatica that left my right leg painfully numb ALL the time. Within a short time that has been relieved tremendously, though there is much more to do to get to full health. In this same time, I have noticed a big difference in my personal energy- more vibrant and alive than in along time, my creativity has exploded, I am motivated both physically and spiritually to get back to being as healthy as I can be, can't wait to be able to rock climb again soon! Overall, I am doing better than I have in years! Thanks to an amazing humble individual who lets his touch speak for itself. I now know that chiropractors can help you, in pain or not, it will make a difference, I know it has for me!!!
– Erik Roggeveen, San Francisco
Feeling Better
I was reminded that taking medicine–pain killers–to get relief for pain could cause greater damage to occur. Thank you for helping with the burning sensation across my upper back without the use of the pain killers–chemical intrusions. I continue to feel better.
– Bruni Hohman, Larkspur
Benefit to Body and Mind
I am experiencing more of the 'Juice of Life,' I feel a large increase in my knowledge/awareness of what subluxation is and how it affects my body. I know that my body/mind is benefiting more than I know.
– Katie Reid, San Francisco

The Harte of Chiropractic Reviews | (415) 460-6527