"Marin Doctor's Confession to Sonoma
County, and WHY it's worth the Drive"
They drive by at least a hundred doctors "like him" to go to his office. But… are they really "like him?" Can they accomplish the same thing? Can they get even close to the same results for you?
---
Before I found Dr. Harte, I had been to one acupuncturist and 11 other chiropractors. Besides getting rid of back and neck pain, Dr. Harte's care has improved my life in so many areas….energy, emotional and mental clarity, sports abilities, a sense of wellbeing and overall enthusiasm. Thanks, you're the best!"
- Patty Charley, Petaluma
---
From the age of 7 or 8, I dreamed of being a doctor. I used to sit on the floor watching the "heroic" TV medical shows of the time, "Dr. Kildaire" and "Ben Casey," with a medical dictionary, a Merck manual and a notebook. Just before beginning college pre-med, I was working as a hospital orderly. I hurt my back lifting a patient. I went to the orthopedist. He took X-rays, and told me that I had Grade III spondylolisthesis.
Translation: My lowest low back vertebrae was in two pieces instead of one, with most of it hanging off into space… very unstable. He prescribed Darvon 65, which was the Oxycontin of the day, and told me that I'd be back when I was 30 or 40 for a TOTAL lumbar fusion.
Pain episodes came and went through college and the first two years of medical school. While I was home for the summer after that second year, it all "hit the fan"… Pain in my low back began shooting down both of my legs. I was walking all bent over, in horrible pain, and began losing control of my bladder. I was only twenty three, and I was scared out of my mind.
The orthopedist wanted to fuse my entire lumbar spine. And then, it got so bad that the pain pills stopped working…
A good friend told me about a different kind of doctor. The next day, I went to see this very different doctor. He did an incredible exam, took X-rays. He gently "adjusted" my spine, relieving nerve pressure to my low back, my legs and my bladder. I stood up straight and pain-free for the first time in months! I left med school, took no credits, and enrolled in New York Chiropractic College. Yes, my mom was horrified!
Now, let me tell you about my son, Abraham, the little guy in the photo. He dropped out of the sixth grade to go to College of Marin. (He was only 11!) He got his Ph.D. in theoretical physics from Penn State when he was only 22.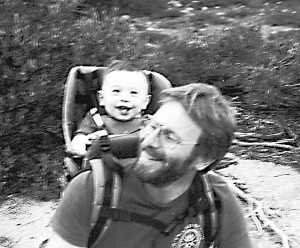 After a stint at the University of Chicago, he's been working at the Albert Einstein Institute in Germany. You must be wondering how did he get so far, so fast? Well, Abraham has been under Wellness Chiropractic care since the day he was born.*
---
"Sleeping improved."
- Jim Simonds, Cotati
"Have not had a 'bad back' since coming here, slowly the IBS (Irritable Bowel Syndrome) is improving, range of motion has improved, general health is excellent."
-Carol Russell, Petaluma
---
Since 1981, I've been serving the Greater Bay Area, getting sick people well and keeping the well from getting sick. I was honored by the World Chiropractic Alliance (WCA) in 2006 as "Chiropractor of the Year." I've had articles published in the Chiropractic Journal, Journal of the California Chiropractic Association, OMNI magazine and the SF Chronicle.
This office, The Harte of Chiropractic, remains THE only office where you will benefit from the art that I have created and honed since 1981, The Harte Method. Going where other chiropractors do not, analyzing and correcting the entire spine, including the coccyx (tailbone) and spinal disks, plus cranial bones (including TMJ) and extremities (shoulders, hips, knees, etc.) with maximum specificity and minimum force.
MY AMAZING OFFER: We start with real science. Examination, three types of neurological scans, X-rays, reg. $570, for only $70. You save $500! The neurological scans alone, if a neurologist did them (they don't), would easily cost over $1500. Available for the first seven who call me by Thurs., Feb. 25th. We are centrally located at 21 Tamal Vista in Corte Madera, near the shopping centers.
We're open Mon-Thu., 10-12 and 4-7. Pick up the phone and call me today, for that appointment, at (415) 460-6527. "I will help you!" – Dr. Don Harte (D.C.)
WHY do I make this crazy-generous offer? I am deeply disturbed about the reckless aggressiveness and systemic incompetence of orthopedic medicine (and medicine, in general.) I am horrified by how many chiropractors are failing in their mission, and failing you. So, here I am!
PS: People come to see me with things that you thought that Chiropractic had nothing to do with… arthritis, insomnia, vertigo, gastric reflux, diabetes, constipation, migraines, chronic fatigue, thyroid, circulation issues, urinary problems, etc. AND… they come to me with problems that allegedly require surgery… spondylolisthesis, stenosis, herniated disks, "bone-on-bone" hips and knees. I don't treat or cure any of these, but people get better. Ask me how!
PPS: If you work in Marin or San Francisco, or drive across the Richmond Bridge, no big deal to get here, right? Yes, I am open late! And if you don't, if you have significant health problems, and have "been everywhere," it's time to come here and get well! AND, an extra $300 off of your pre-pay plan for the first 3 Sonoma residents who call and qualify.
---
* It seems that there are "comedians" on staff at the chiropractic board, who think that you will think that, if you bring your child here, he or she will be guaranteed to get a Ph.D. by 22. I am supposed to tell you not to expect that.