Published Articles
Dr. Harte on the wonders of Chiropractic, the risks of Medicine, etc.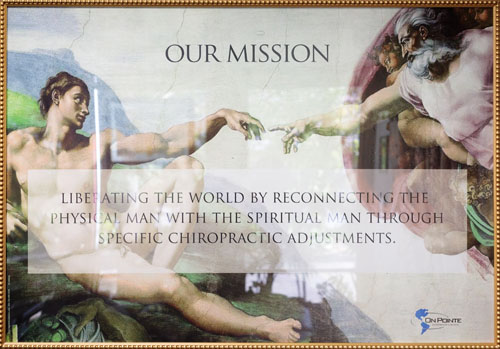 October 26, 2017: "Is it the GOP or the Democrats Who Are Destroying 'Health Care' in America," asks Dr. Harte "In this over-politicized climate," Harte states, "people expect every problem to have a governmental solution. This only makes this sick health care system sicker."The REAL solution is a totally different paradigm!
July 28, 2017: "Dr. Harte and the 'Health Care' Debate – A Loss of Health AND Liberty": Dr. Harte attacks the whole PMMG (Pharmaceutical-Medical-Media-Governmental) Complex, society's reference to Medicine as "health care," with his warning about making Medicine the state religion.
March 31, 2017: "Trumps' Wrong Attack on Opioid Epidemic": The foolishness of pain management. Dr. Harte puts the blame squarely upon the M.D.'s, chiefly the orthopedists, who fail, clinically, and get patients hooked on opioids. The sensible way? Chiropractic care.
March 20, 2017: "Missing Pieces of the Health Care Debate": Dr. Harte points out the absurdity of looking for more access to medical care, which, basically, doesn't work, except in emergencies. What is health care, really?
January 18, 2017: "'Hitler in a White Coat' Stalks California": Dr. Harte attacks proposed California bill, SB18, which tightens the noose of compulsory vaccination, and will interfere with parental control of their own children, even beyond health care issues.
July 6, 2016: "Cool = Science?" Letter to the Editor, Pacific Sun, regarding their article touting Magic Mushrooms as a legal, medically accepted treatment for PTSD and depression. Dr. Harte making plain the ridiculousness of this.
May 5, 2016: "California Chiropractor calls Prince's death 'One more example of gross medical stupidity!'"
January 5, 2016: Best New Year's Health Advice: Beware of Doctor's Scare Tactics!
September 29, 2015: "Fall Flu Shot Extravaganza is Off and Running"
July 29, 2015: "Government Attacks California Chiropractic Activist for His Opposition to Forced Mass Poisoning of Children: Chiropractor Charges Govt. with Hate Crime"
July 16, 2015: "CA SB277: Marin Chiropractor Says Power Structure Bigoted Against Boy in Wheelchair, vs. Leukemia Boy"
June 15, 2015: Press release: "Dr. Don Harte warns about the Failure of Big Pharma and Growing Opioid Addiction Crises"
May, 2015: "The Biological, Economic and Political Case Against Vaccination" in North Bay Biz magazine
May 15, 2015: "Dr. Don Harte Calls Draconian SB277 Vaccination Initiative Sacramento's Syringe of Shame"
April 21, 2015: "End of a Made-up Measles Crisis"
February 12, 2015: "It's a childhood disease, not a tragedy" Letter to the Editor in the Pacific Sun, about the measles hysteria
January 27, 2015: "California Straight Chiropractor Fights Disney Measles Mania"
March 5, 2015: "You cannot have vaccination that works, yet doesn't work" Letter to the Editor in the Pacific Sun. "

The grotesque level of bigotry, backed up by the lack of any comprehension of immunology, toxicology and the vitalistic paradigm of Chiropractic, is astounding."

April, 2009: "Seize the Time" in The Chiropractic Journal. The future of Chiropractic, as Medicine is breaking down, and bankrupting the country.
April, 2009: "Refusal to Vaccinate Puts Kids At Risk" Dr. Harte quoted, "Vaccination is based on the medical fallacy that our bodies are stupid."
Spring, 2008: "The Future of Chiropractic" Journal of the California Chiropractic Association. For chiropractors, my view on the future of Chiropractic.
November, 2007: "Is There a Vaccine That Protects Against 'Non-Science?'"Marin Independent Journal. Discussion of Guardisil, the HPV vaccine, the flu vaccine, and the general foolishness of vaccination, the lack of science and efficacy, etc.
May, 2005: "Generations of Unbridled Power" The Chiropractic Journal. In a publication for chiropractors, I am standing up against the harassment and debasement of the chiropractic profession, specifically by the California Board of Chiropractic Examiners.
October, 2004: "Time for regime Change in Attitude about Medicine" San Francisco Chronicle. The very popular anti-inflammatory medication, Vioxx, was just pulled off the market, at the same time as a massive contamination of flu vaccine.
January, 2004: "Alternative to the Sting of a Failed Flu Vaccine" San Francisco Chronicle. Discusses the absurdity and the dangers of the annual flu vaccine ritual. The heroic role of Chiropractic in the Great Flu Pandemic of 1918.
May, 2003: "Where is the Danger in Chiropractic?" San Francisco Chronicle. Responding to another baseless attack upon Chiropractic by medical bigots, noting the extreme risks of Medicine, and the extreme safety of Chiropractic.
January, 2002: "To X-Ray or Not to X-Ray" The Chiropractic Journal. An article to chiropractors about how essential X-ray is to the practice of Chiropractic. Sadly, very few chiropractors X-ray these days.
May, 2000: "By Giving Our Kids Certain Drugs, We're Playing Russian Roulette With Their Lives" Marin Independent Journal. Ritalin and anti-depressants for children, the Columbine massacre, the role of Chiropractic in children's health.
December, 1999: "It's a Myth that Children Need Vaccines" Marin Independent Journal.
July, 1999: "Too Little Drugs, Too Many Organs" Marin Independent Journal. Does the medical paradigm really make sense? Is it logical?.
November, 1979: "Interferon and Beyond" OMNI Magazine "Forum," (Response to a cover story, "Cancer Cure at a Billion Dollars a Pound." Interferon, one of many substances made by our immune system, was just discovered, and being touted as the cure for cancer. I wrote that this scheme would fail, and history has proved me correct. I discussed Chiropractic and the concept of Innate Intelligence, in regards to cancer and the immune system.) I was a chiropractic student when I wrote this.
Articles About Dr. Harte:
Give our Marin County chiropractic office a call to begin your journey toward health!
---
The Harte of Chiropractic provides authentic chiropractic care for Marin County, Corte Madera,
Mill Valley, Larkspur, Novato, Sausalito, San Rafael and San Anselmo families.