Chiropractic and Arthritis
ARTHRITIS… a word that provokes… submission… giving up. "Learn to live with it." "You're getting old." Blah, blah, blah.
Many of our patients seek chiropractic to help with their arthritis. Some might think that chiropractors can get rid of arthritis, but in fact, what we do is very different than a cure. First, let's understand what exactly arthritis is.
Have You Been Diagnosed With Arthritis?
What does the word "arthritis" mean? "Arth" means "joint." "Itis" is inflammation. The reason why your joints hurt is because they are inflamed. So The Doctor translates what you tell him or her in English, "hurting joint," to Latin, "arthritis,' and, voila, there is that diagnosis.
The good news is that Marin County chiropractor, Dr. Don Harte can help!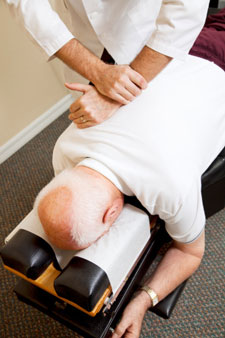 How Can Chiropractic Help Arthritis?
What you have been told is "spinal arthritis" is Subluxation Degeneration, which is the body reacting to years and decades of Vertebral Subluxation Complex (VSC). This is the wisdom of the body, your Innate Intelligence, acting to defend itself from more serious damage, like spinal fracture.
In any event, arthritis has the possibility of getting some or all better, when the cause is corrected.
Does it matter if you are in your 60's, 70's, 80's, 90's? As long as you are breathing, you have the capacity to heal… slower than someone younger, but it can be done. As long as you have the will.
Get adjusted. Get well! Call me at 460-6527. I will help you.Dr. Don Harte
Special Offer For New Patients
Take advantage of this special offer and book a consultation with me. For just $170 (a savings of $400 off the regular price of $570!), you'll get a comprehensive examination, three kinds of nerve scans, X-rays and my Report of Findings.
Where else can you have a doctor who actually listens to you, looks for the cause, prescribes no drugs, recommends no surgery, and gets you well, even from conditions you've had for years?
Contact me now to take the first step on your journey to wellness.

Probably the most devoted and knowledgeable chiropractor around.

I must confess I was shocked to see the results of my first examination. I had no idea how constricted & bent my spine was. It definitely convinced me that I needed to do something & I needed to do it right away. I'm grateful I was given the opportunity to join "the team" and to get started right away. I'm convinced that, finally, I found a chiropractor that can help me heal and will take the time, energy and skill to get me results and help my body heal itself.

I look forward to a rewarding future for both of us. I feel that I'm off to a great start and hopefully, Dr. Harte feels the same way.

Thank you so much for your time and patience.

I now have hope for my future and look forward to the new improved me.

Dr. Donald Harte was so helpful explaining in detail how the process works. I'm really excited.

I'm starting to sleep much better after 6 sessions; I feel a shifting going on in my body. That's great news!

Ambiance of office was very relaxing and unique.

An analogy: with DR HARTE conducting the symphony by bringing forth harmony thru orchestrating the natural flow of energy to the instruments (organs) thus providing optimal performance…..

It's so refreshing to be able to know and feel that your healthcare provider truly wants the best for you and your health, and not just trying to get paid for writing a prescription. After my first few adjustments, I can already tell a huge difference! I can't wait see how my health improves over the next few weeks and the rest of my life! Thank you, Dr. Harte!

It was a great experience!

First visit was so informative and clearly pointed out the need for your services.

I feel that I have been given the opportunity to see how my own body can heal my problems with Dr. Harte's guidance.

"I feel sronger, can work longer without tiring, better endurance. Better
concentration, too!"

Felt comfortable & taken care of. Look forward to good results. Grateful!

Better mood, a lot more positive energy, thinking clearer, now walk three miles with my husband… better outlook on life.

I was very impressed with the time Dr. Harte took to tend to me. He treats you like a long-lost and long-time time friend. I have never received that kind of attention with someone in the health or wellness industry. Highly recommended!

Thank you so much for your attentive and informative care.

Dr. Harte is very personable. I appreciate the time he spent with me on my first visit. It was a very comfortable and pleasant experience.

My back pain is gone. Much less shoulder pains. Migraines are less. Huge improvement in mental clarity and mood.

Marked improvement in sleep, range of motion & pain reduction.

I'm already feeling the positive effects of Dr. Harte's treatment.

Great progress in one week, thanks to Dr. Harte!!

I just wanted to say that I have never, ever given any business such high ratings before . The Harte of Chiropractic, in my opinion is definitely one of those hidden gems and I'm so so so happy to have found some real help with my specific issues.

I feel a major improvement in energy, quality of sleep, enthusiasm, sports ability, balance, breathing, and an improved sense of well-being.

I am so fortunate to have found Dr. Harte. After my second adjustment, I really noticed a difference, which has rarely happened in all my years of chiropractic care. I look forward to better health and wellness with the help of Dr. Harte!

Pain gone. Improved mental clarity, patience. Body handles stress better.

*"It's given me my life back! Everything is better!"

Super knowledgeable! The most knowledgeable doctor I've met in my 3 year struggle with back pain. Finally I found a doctor that can give me answers and peace of mind!

The result of my first visit was quite successful. The pain in my lower back went away immediately.

I felt really taken care of and heard. I am actually really excited about receiving Dr. Harte's assistance. I found him charming, kind, professional and very knowledgeable. I immediately felt comfortable and safe. I have only had two adjustments and I already feel relief.

I was very impressed on the things that he showed me in the things that he's going to do for me. He is very knowledgeable.

Helpful, hopeful and informative experience. Well done Doctor Harte.

I loved the openness of Dr. Harte and his willingness to answer all questions.

Off to a great start; eagerly anticipating future visits.

I appreciate Dr. Harte's attention to me specifically, even when he is working with other patients in the office.

Looking forward to better health. Thanks to Dr. Harte.

Looking forward to having Dr Harte's adjustments.

Impressed with the efficient manner in which appointments were completed in a timely manner.

Top Arthritis Chiropractor located in Corte Madera